Featured Screen of the Week: The JKP Affinity 1.1
July 1st, 2010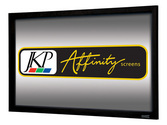 In 2008, Da-Lite announced the award-winning JKP Affinity Screen Series. Developed in conjunction with Joe Kane Productions, the JKP Affinity Screen Series is designed for stellar image reproduction in low ambient light installations. (For those of you that don't know Joe, he is a past chair of the Society of Motion Picture and Television Engineers (SMPTE) Working Group on Professional & Studio Monitors. He has also produced several groundbreaking programs, including A Video Standard, two versions of Video Essentials and multiple versions of Digital Video Essentials.)
The creation of the JKP Affinity Screens provided a reference standard for use with HD digital projectors; one that traditional screen surfaces simply can't offer. The incredible detail and image uniformity possible by today's advanced HD projectors deserve a technologically advanced screen to maintain this level of image quality.
The JKP Affinity 1.1 retains the features of its predecessors, the HD Progressive 0.6 and 0.9, which include unmatched uniformity, clarity, contrast and picture fidelity. It is differentiated through the use of 1.1 gain material, which makes this screen more suitable for use in larger venues or with lower light output HD projectors. A half-angle of 85° is generous for large venues that require viewing-cone flexibility.
The JKP Affinity HD Progressive Screens are now available in heights up to 16 feet, and in fixed frame and tensioned electric screen configurations. For more on the JKP Affinity 1.1, click here.
« View All Posts
« Back