'Making the case' for large venue screens
July 6th, 2010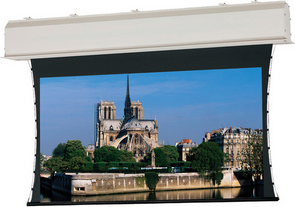 Da-Lite has engineered a breakthrough in large venue electric screens with the introduction of the new Large Advantage and Advantage Deluxe extruded aluminum cases for both non-tensioned and tensioned screens. The Large Advantage and Advantage Deluxe screens are suitable for ceiling recessed applications.
Specially designed and engineered for projection screen widths from 14 to 24 feet, the one piece precision extrusion is the first of its kind in the industry. The Large Advantage and Advantage Deluxe cases meet Underwriters Laboratories (UL) Plenum Testing Standards for use in air handling space. The new Large Advantage aluminum case is easily installed using one half inch threaded rod attached to the convenient mounting brackets.
The Large Advantage Deluxe's full-length closing door is a proprietary design unique to this new line of Large Advantage Deluxe screen cases. The motorized continuous closure is standard on the Large Advantage Deluxe. The Large Advantage case has the same built-in features as the Deluxe without the closing door.

The Large Advantage or Advantage Deluxe houses Da-Lite's proven seven inch screen roller system. This large roller permits projection screen sizes up to 22 feet in tensioned and up to 24 feet in non-tensioned screens.

Available in a wide variety of Da-Lite's proprietary projection screen fabrics, the new line of Large Advantage cases offer a self-trimming flange in durable powder-coated finishes. Non-tensioned screens are available in Matte White and are seamless in sizes up to 16 feet high. All size seamless tensioned fabrics include; Da-Mat, High Contrast Da-Mat, Pearlescent, Cinema Vision, High Contrast Cinema Vision, Da-Tex and Dual Vision.

The all new Large Advantage extruded aluminum case can be specified with all screens over 12 feet in width. For more information, click here!
« View All Posts
« Back