How-to of the Week: Da-Lite's Online Screen Designer
July 16th, 2010
In an earlier post, we featured Da-Lite's innovative Screen Designer, a powerful tool that makes selection, configuration, specification and ordering of Da-Lite screens incredibly simple. This step-by-step guide demonstrates just how simple it is to use Da-Lite's Screen Designer in 7 easy steps! Screen Designer allows you to log in to remember your previous work, but doesn't require it, so give it a try!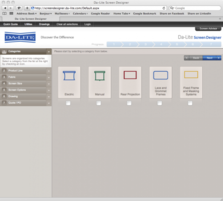 Step 1: Select the type of screen you desire for your specific application.You can choose from Electric, Manual, Rear Projection, Lace and Grommet or Fixed Frame.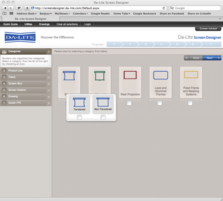 If there are more specific types available for your selection, these options will appear when you make your first selection.
With each step, simply click Next in the upper right to proceed to the next step.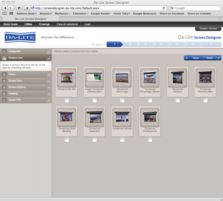 Step 2: Select the Da-Lite model that is available for the type that you previously selected. All Da-Lite models are listed along with an image.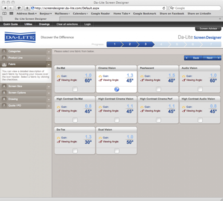 Step 3: Select the fabric (or rear screen type) that you desire for your specific screen. Each surface type describes the Gain and Viewing Angle in simple illustrations.
Once you've made your selection, don't forget to click Next!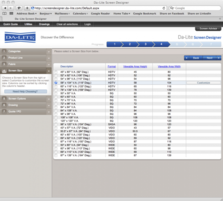 Step 4: Select your desired size from the standard sizes available, or customize your size to fit your application. Since Da-Lite builds each screen to exact requirements, big or small, there are few limitations to the sizes that we can create!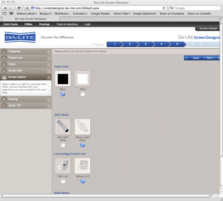 Step 5: Select the desired options for your screen. These include case color, borders, remotes, motor choices, etc. You're almost done!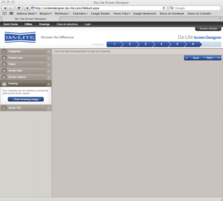 Step 6: Print your drawing specifications! This PDF can be printed or emailed to customers or specifiers, so that you have an exact reference of the screen you have configured.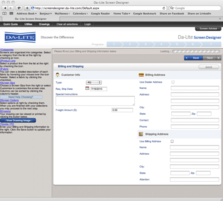 Step 7: Place your order or request a quote. By completing the billing, shipping and other pertinent order information, we can process your order from the information you have provided, or receive a retail quote for your specific screen.
That's it! Using Da-Lite's Screen Designer makes the process of selecting, configuring, specifying and ordering your screen incredibly simple. It only takes a few minutes, so give it a try by clicking here!
« View All Posts
« Back