Da-Lite Expands Large Venue Electric Screen Portfolio with Arena Electrol
July 19th, 2010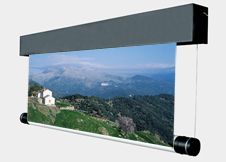 When your auditorium or large venue application calls for massive widths in a retractable enclosure, the Arena Electrol is the perfect solution!
Available in widths over 39 feet, the Arena Electrol is designed with a unique built-in balancing system and steel cable guides to ensure smooth, even screen retraction and a flat viewing surface with each use, year after year.
The housing for the Arena Electrol features a durable steel inner frame with a black steel case finish and fixed mounting brackets.
The projection screen surface is centered in the screen housing and is available with Matte White and Perforated Matte White borderless fabric.
The Arena Electrol includes a radio frequency remote control and a three position wall switch.
Need more information on the Arena Electrol? Click here!
« View All Posts
« Back