Da-Lite takes Digital Signage Screens to new depths with the Holo Screen
August 3rd, 2010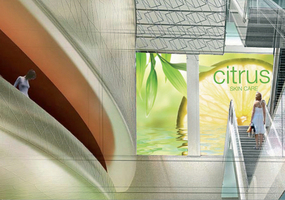 Da-Lite introduced the new Holo Screen for large format digital signage applications back in June, and it immediately became the "Award Winning" Holo Screen as the "Best New Screen Product" in rAVe, an online ProAV industry publication. To watch Wendy Long, Da-Lite's VP of Marketing, talk about the Holo Screen at InfoComm, click here.
Engineered and designed to address the need for custom sizes in digital sign installations, the Holo Screen is an upgrade from the previous holographic film available from Da-Lite. Additionally, the Holo Screen utilizes a proprietary optical coating for crisper images.

Designed specifically for high ambient light environments and point-of-sale applications, the new Holo Screen is now available in sizes up to 108 X 300 inches meeting the increased demand for ever larger digital signage in the commercial and retail markets.
The Holo Screen is designed for use with most single lens projectors and enables architects, AV consultants and integrators to design and install custom sized screens for specialty retail, office lobbies, airports and other high traffic commercial and retail locations.

The Holo Screen also features:
A vertical projection offset angle from 18 to 35 degrees
A generous, wide viewing angle
A 4.0 gain surface
The net result is a remarkably bright and clear image, even in brightly lit environments. All other light – such as sunlight and other sources of ambient light – is ignored making it ideal even for retail shop windows. Additionally, the transparency of the Holo Screen allows an image to be projected while letting the viewer see through the screen at the same time.

The price point of the Holo Screen in 50% less than its predecessors, making it extremely attractive for the most budget conscious digital signage installations.

The new Holo Screen is available through authorized Da-Lite dealers and integrators throughout the world. For more information, click here!
« View All Posts
« Back