Da-Lite Lace and Grommet Screens: Really Big Screens for Really Big Shows
October 19th, 2010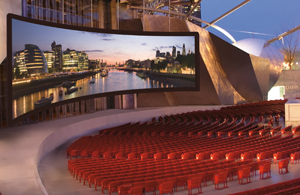 Da-Lite Series 200 and 300 Lace and Grommet frames mean big audiences get big screens without having to compromise the experience. The result is a viewing environment that delivers on the creative vision of the director and producer. A result so immersive, it must be experienced. A result that can only be achieved using large scale Lace and Grommet screens from Da-Lite.
What you can imagine, Da-Lite can produce. Whether your next project calls for a special curve, shape or size, you can rely on Da-Lite for the solution. For over 100 years, Da-Lite has been designing and building custom projection screens in shapes and sizes that challenge our designers to use all of their tremendous skills. We have now dedicated this experience and talent to the Da-Lite Design Center, an online resource providing the support that turns your ideas into something special.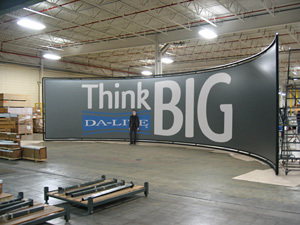 Whether "fixed" or "flown" using front or rear projection, Da-Lite's tough tubular frames and performance enhancing screen surfaces add a new dimension to live events. When the performance demands not only the biggest, but the best; Think Big, Think Da-Lite.
Click here for more on Da-Lite's standard and curved Series 200 and 300 Lace and Grommet screens.
« View All Posts
« Back