Making an Impact with Da-Lite Rear Screens
November 4th, 2010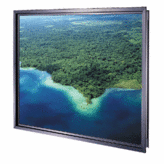 Da-Lite offers a wide variety of rear screen surfaces to address almost any application. Whether your application requires portability or fixed install, commercial or home theater, Da-Lite has a solution that will suit the most challenging environments.

Da-Lite's engineers have taken into account the quality and artifacts that affect rear screen installations the most: uniformity, color rendition, high ambient light, wide viewing angles, high resolution projectors and black level correction.

Da-Lite also has addressed the longevity and environmental issues that matter most. Most of Da-lite's rear screen surfaces can be cleaned, are flame retardant and mildew resistant. Also, a vast majority of Da-Lite's rear screens possess GREENGUARD® certification, including the GREENGUARD® Children and Schools Certification program. Da-Lite is proud to have more GREENGUARD® certified surfaces than any other screen manufacturer in the industry!

To determine which rear screen surface best suits your specific application, Da-Lite has a variety of online tools available for use by our dealers, customers, and partners.

- The Da-Lite Screen Surface Selection for rear projection provides an overview of the rear screen optical coatings and surfaces available from Da-Lite.

- Questions about screen frames and options? The Da-Lite Fixed Frame Screen guide will address them in detail.

- If your application requires a rigid rear screen, Da-Lite has dedicated a portion of its site to rigid screens and coatings.

- Lastly, Da-Lite's Screen Designer is a powerful tool in the selection of a fixed frame rear screen based upon your specific criteria. Simply enter your selections, and we'll narrow the options to the ones that best suit your requirements!
« View All Posts
« Back