Da-Lite Introduces Dual Video Conferencing Cart
December 29th, 2010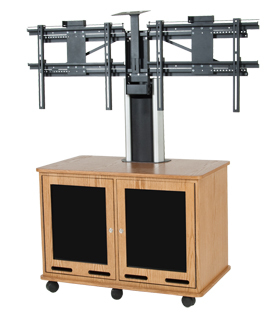 Da-Lite is pleased to announce the expansion of its video conferencing line with the addition of a wooden Dual Video Conferencing Cart. Our new cart comes standard with side-by-side monitor mounts that each accommodate up to a 50" monitor. A camera shelf is also included.
The Dual Video Conferencing Equipment Rack Cart is both a beautiful piece of furniture and a mobile solution for any video conference environment.
The cabinets below the monitor mounts feature two 14-space 19" EIA rack cabinets, which accommodate storage of rack-mountable equipment while maintaining a standard furniture height of 32".
This cart features locking smoked acrylic front doors, which allow for easy transmission of infrared signals, a removable rear access panel for equipment installation and maintenance, two six outlet electrical strips, dual cooling fans, top and bottom grommet holes for easy cable pass through and six 3" casters.
A choice of seven standard veneers, four standard laminates or custom finishes are available with the Dual Video Conferencing Cart.
For more information on the Dual Video Conferencing Cart, click here!
« View All Posts
« Back