Featured Product: Da-Lite's Cosmopolitan Electrol Screen
February 18th, 2011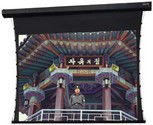 Available in standard and tensioned versions, Da-Lite's Cosmopolitan® Electrol® is ideal for applications where a recessed electric screen installation is not desired or feasible.
The Cosmopolitan® Electrol® features a patented in-the-roller motor mounting system for quiet operation, and an aesthetically pleasing, white painted case blends with any decor.
The Cosmopolitan® is available with Da-Lite's full line of front projection self-supporting screen surfaces and the Tensioned Cosmopolitan® is available with any of Da-Lite's front or rear projection flexible screen surfaces.
As an alternative to the white enclosure, seven veneer finishes are also available as options for a warm, elegant look. Veneers options include Honey Maple, Medium Oak, Heritage Walnut, Mahogany, (bottom row) Light Oak, Natural Walnut, Cherry.
Veneer enclosures with Honey Maple, Light Oak and Medium Oak finishes include white end caps. Veneer enclosures with Cherry, Mahogany, Natural Walnut and Heritage Walnut finishes include black end caps.
Other options for the Cosmopolitan® Electrol® include the floating mounting brackets, which allow the Cosmopolitan® to be mounted onto wall or ceiling studs and aligned left or right after installation by releasing two sets of screws. The floating mounting bracket is available in black or white. Veneer can also be added to match a Cosmopolitan® with a veneer case.
For more information on the Cosmopolitan® Electrol®, watch our YouTube video!
« View All Posts
« Back