Da-Lite Featured Products: Laptop Storage Carts
March 15th, 2011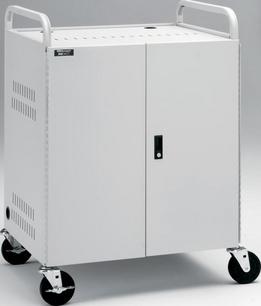 The CT-LS20 and CT-LS30 are mobile solutions for recharging and storing up to 30 laptop computers for secure storage and recharging with the optional power strips.
The CT-LS20 accommodates up to 20 laptops, while the CT-LS30 accommodates up to 30. Additionally, the laptop cell partitions can be removed individually to create lockable storage for a printer or server device. Ventilation is achieved with perforations on sides and top and bottom of both units.
The CT-LS20's 23.25" x 30" and the CT-LS30's 22" x 44" top shelves have a ½" lip on three sides to support a printer and server device.
Both the CT-LS20 and CT-LS30 ship partially assembled and include a standard Dove gray powder coated finish.
For more information on the CT-LS20 and CT-LS30, visit Da-Lite.com!
« View All Posts
« Back