Da-Lite Social Media Update
March 17th, 2011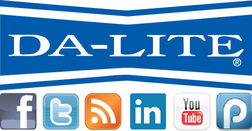 In addition to the blog you are reading, Da-Lite also has a social media presence on LinkedIn, Facebook, Twitter, YouTube and Plaxo!
Da-Lite's social media strategy is to be active on the same social networks that our loyal customers and partners use in order to expand on the relationships we have built in our 100 plus years in the audio visual industry.
Da‑Lite's philosophy on Social Media is very simple; we want to be able to extend the personal relationships we have developed over the years with our customers and partners into online societies.
If you like to read our blog at your convenience, simply continue visiting us here! If you'd prefer, you can subscribe to the RSS feed to have each post delivered to your RSS reader of choice. If you like the interactivity of social networks, you can become a fan of Da-Lite on Facebook or follow us on Twitter, or even join the Da-Lite groups on LinkedIn or Plaxo so that you can provide us with feedback or pass along information to your colleagues!
« View All Posts
« Back