Da-Lite's UPM-1 Gets a Refresh for Easier Installation!
April 14th, 2011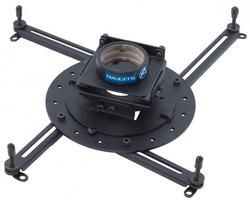 Da-Lite's highly successful Advance UPM-1 Universal Projector Mount accommodates most projectors up to 50 pounds and is a breeze to install. Based on your feedback, we just made it easier!
The new and improved UPM-1 makes it simpler to rotate the projector to perfectly align it with your Da-Lite projection screen. Simply loosen a single screw and the projector will swivel freely on the mount. Fewer tools and fewer adjustments means less time on the ladder for installers.
The Advance UPM-1 allows for roll adjustment of +/- 20 degrees, pitch adjustment of +/- 15 degrees and 360 degree swivel.
Da-Lite offers a fully complement of ceiling mount accessories for the UPM-1. The new and improved UPM-1 continues to be available in your choice of black or white powder coated finish and includes the mounting and security hardware necessary for most installations.
For more information on the new and improved Da-Lite Advance UPM-1, click here!
« View All Posts
« Back