Da-Lite Updates the Smart Motor
May 5th, 2011
Da-Lite has updated the Smart Motor, the enhanced low voltage controller available for the Advantage Electrol, Tensioned Advantage Electrol, Contour Electrol, Tensioned Contour Electrol, Cosmopolitan Electrol and Tensioned Cosmopolitan Electrol screens.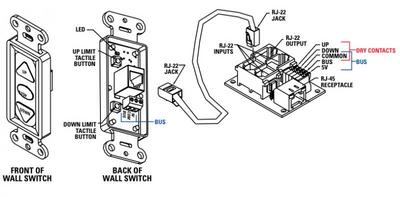 Previously, the Smart Motor required the use of a single telephone-style cable to connect the screen to the wall switch. Installation has now been made even easier! Installers can opt to use a 3-conductor, 20-24 gauge cable instead of the included telephone-style cable. With either connection method, as the connections between the wall switch, splitter and motor are made, LED's show connectivity at each step so that you know everything is connected properly.

Screen up, down and stop settings can be adjusted directly from the back of the wall switch during the installation process, which substantially reduces the complexity of making these adjustments for the installer. Better yet, if you make a mistake in the adjustment process and want to start over, you can return the screen to its factory preset stops.

The splitter that connects the wall switch to the screen includes inputs for optional IR, RF or Video Projector Interface (VPI) control as well as dry contact terminals, providing for simple integration of third party control systems.
If you want to learn more about the new Smart Motor, you can watch our updated video on YouTube, or read up on Da-Lite's Smart motor equipped electric screens on our web site!
« View All Posts
« Back